Proudly Serving the Tampa Bay Area for Three Generations
LeavenLaw is an AV® Preeminent™ rated law firm that traces its roots back to 1972 in St. Petersburg, Florida to the late Honorable Charles Richard Leavengood. The Law Offices of C. Richard Leavengood focused on real estate law, specifically eminent domain. For almost a decade, "Dick" built a small but reputable practice serving Pinellas County's residents.
After a brief stint in private practice, Dick ran for Circuit Court Judge of the Sixth Circuit of Florida. Once elected, Judge Leavengood served on the bench for almost twenty years, eventually serving as its chief judge for more than a decade. After being appointed to the Supreme Court as an interim Justice, Judge Leavengood was eventually defeated by Justice Boyd in his campaign efforts for re-election to the State's Highest Court.
A Focus on Helping the Tampa Bay Community
In June of 1978, after graduating from the University of Florida College of Law, Judge Leavengood's son, Richard Timothy Leavengood, returned home to join his father in the practice of law. Leavengood & Leavengood, as the firm was then known, re-focused its efforts on serving the Tampa Bay community's legal needs. For the next several years, this father and son firm practiced in the areas of real estate, wills, trusts, probate, estate planning and wealth management. In 1980, Richard followed his father's lead and decided to run for County Judge. At 27 years of age, however, Richard was the inexperienced underdog, finishing third out of five candidates.
---
Filing for bankruptcy? Put us on your side. To learn how we can help, contact our firm today.
---
Continuing a Legacy of Excellence
Returning to the practice of law, Richard decided to expand Leavengood & Leavengood's practice areas by familiarizing himself with an area of law new to the practice...an area that would eventually become the firm's primary focus to this day: Consumer Bankruptcy Law. Leavengood & Leavengood continued to serve the community until Dick passed away in 1993.
The Next Generation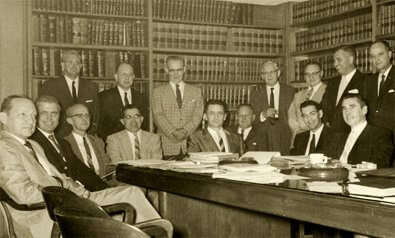 In May 1995, Richard T. Leavengood's son, Ian Richard Leavengood, graduated from the University of Florida's Fisher School with his Bachelors and Masters degrees in Accounting. After two years working as an internal business consultant for The Procter & Gamble Distributing Company, Ian returned to the University of Florida to earn his law degree. During his second stint at UF, Ian served as a Judicial Extern to The Honorable Justice Ben F. Overton of the Supreme Court of State of Florida. After graduating from the Levin College of Law in May of 2000, Ian took a job for Deloitte & Touche, practicing the federal taxation of Mergers & Acquisitions in New York City. For three years, Ian utilized both his law and accounting degrees serving one of Wall Street's financial pioneers and one of Deloitte's most influential and affluent clients - the leveraged buy-out firm Kohlberg, Kravis & Roberts.
After four years working in New York City, Ian returned home to St. Petersburg to join his father in the practice of law. Charged with growing the practice, Ian began to expand the firm's personnel, reach and areas of practice. In 2004, Ian brought Christopher Charles Nash over from Akerman Senterfitt, creating the foundation for the LeavenLaw firm.
Together, Richard, Ian and Chris re-branded the newly formed firm and expanded the firm's legal reach to include:
Since its inception, LeavenLaw has continued to grow, both in size and scope of matters wherein it helps Florida's consumers. With the addition of Richard Dauval and Michale Boyle as shareholders of the firm, LeavenLaw has continues to evolve and strengthen in its abilities. As one of the largest consumer bankruptcy files in West Central Florida, LeavenLaw and its staff are very familiar in helping people with all aspects of debt. Further, LeavenLaw helps consumers go on the offensive when times are tough. Class Actions are a type of case where one person, a class representative, files a case alleging wrongdoing not just on his or her behalf, but on behalf of other consumers who have similarly been harmed.
---
LeavenLaw is uniquely qualified to help Floridians with debt, credit and other consumers problems . . . no matter how small the harm may seem to be. If you have the need for counsel, please do not hesitate to call. It will be our pleasure to serve.
---