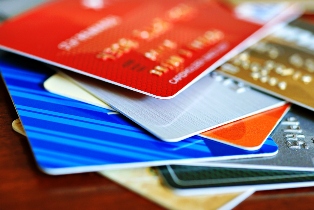 Debt.  The American Dream?  Not exactly, but the reality is many Americans use debt every day.  Homes.  Cars.  Credit cards for food, gas and clothes.  The truth is, debt is a large part of most consumers' everyday lives.   And that is fine, until sickness, unemployment or divorce hits.  Then, consumers are faced with hard decisions on how to use their money.  Mortgages and car payments tend to be first priority.  People need a roof over their head and transportation to get to work, school and the grocery store.  So what tends to be the first payment to go?  Credit Cards.  One or two late payments on a credit card and your interest rate increases, your credit score goes down and the phone starts ringing.  Stress increases, finances usually get worse and the consumer is faced with potential creditor harassment, lawsuits and even possibly bankruptcy. 
Over the past ten years, banks and credit card companies have moved away from collecting debt themselves -- it is not their "core" business.  Instead, they sell their bad debt for pennies on the dollar to "debt-buyers."  These accounts are typically sold "as is," pursuant to contracts where the creditor actually states that it cannot warrant the accuracy of the account's balance or the existence account documentation.  Despite these disclaimers and known problems with the accounts they buy, debt buyers then pursue collection of these accounts via telephone, dunning letter and eventually a lawsuit.  And what may be most offensive?  Even with these known problems, debt buyers will seek to collect 100 cents on the dollar when they paid usually less than 5 cents on the dollar for these accounts. 
Accounts sold in the bulk sale may include accounts where the debt has been paid, settled, discharged in bankruptcy or was never owed.
To make matters worse, the accounts sold and pursued are often the elderly or low-income families with limited resources to hire a lawyer to defend these lawsuits or the ability to take off work to go to court.  Instead, these weary, stressed-out consumers tend to either enter into a settlement or fail to appear in court, resulting in a judgment and likely an eventual wage garnishment or frozen bank account.  The ripple effect of such a judgment or garnishment cannot be overstated:  bounced checks, further family stress, impaired credit scores, and potential obstacles to the victim's ability to get a job or apartment. 
For these reasons, LeavenLaw created www.FloridaCollectionDefense.com  and its Flat-Fee, Value-Back Guarantee program to help people faced with such debt-buyer or credit card litigation.  The program is simple:  depending on how much debt you allegedly owe and the court you are in, your fee is fixed and flat.  No replenishment of retainers.  No hourly rates that you, the consumer must worry about.  Fees range from $395.00 to $895.00.  LeavenLaw will then ask questions about the debt's collection and look at the lawsuit and the documents that allegedly support the bank's or debt buyer's claim.  If there are problems, we go after them, filing a lawsuit under either the Fair Debt Collection Practices Act ("FDCPA") or the Florida Consumer Collection Practices Act ("FCCPA") for unlawful debt collection or creditor harassment.  If we cannot get you damages equal to or above what you paid us, or get an offer to settle your debt at an amount that includes a discount greater than the fee you paid us, your fee is refunded.  That is our value-back guarantee to you.
Debt buyers that we typically see problems with include but are not limited to:
CACH, LLC

Portfolio Recovery Associates

Midland Funding

Dyck O'Neal (mortgage deficiency buyer)

National Collegiate Student Loan Trust
Perhaps the most amazing aspect of debt buyer lawsuits is the conflict within their own arguments to prove the debt is owed.  On one hand, the debt buyers acknowledge in the forward flow agreement -- the term given to contracts where banks sell debt in bulk to debt buyers -- that data it receives from the bank is limited and potentially flawed.  On the other hand, despite this explicit acknowledgement, debt buyers argue in court that the documents that support their claim are "inherently reliable" because the data came from a highly regulated bank that had a duty to keep accurate records. 
If you have been served with a lawsuit from a credit card company or debt buyer, please contact us to discuss representation.  The consumer attorneys at LeavenLaw have years of experience in debtor-creditor law and have been defending consumers and pursuing unlawful debt collection for over three generations. We offer a free consultation, a value-back guaranty and hopefully some peace of mind knowing that competent, aggressive representation is available to everyone, regardless of your resources.  www.LeavenLaw.com or www.FloridaCollectionDefense.com  1-855-LeavenLaw 1-(855-532-8365)