By Michael Boyle, Esq.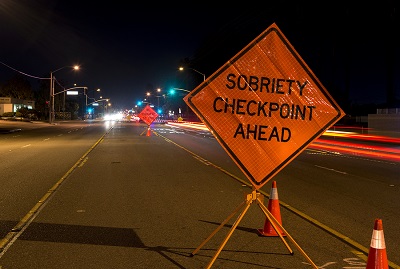 As this Holiday Season is upon us, so is the season for increased DUI checkpoints and patrols.  In the Tampa Bay area, we will see several, strategically-placed DUI checkpoints around Christmas and New Year's targeting those of us who have had a little too much eggnog and have gotten behind the wheel.
DUI "Wolfpacks" and Patrols
An ever-increasingly popular method of identifying and arresting impaired drivers in Pinellas County, Florida, is the use of DUI Wolfpacks.  These "Wolfpacks" are cooperative efforts by many of the law enforcement agencies in the County to work together to put high concentrations of officers in all types of vehicles patrolling a selected area.  For instance, Fourth Street North in St. Petersburg is a busy thoroughfare, as there are many restaurants and bars.  When a Wolfpack sets up on 4th street, there will be a large concentration of officers from the Pinellas County Sheriff's office and the St. Petersburg Police Department driving north and south in a loop observing the driving behavior of drivers during peak DUI hours of the night and early morning.  If the officers working this patrol see suspicious behavior, they will pull the driver over and likely a mobile breath testing facility will be strategically set up to administer a breath test timely to process an arrest if needed.  This allows large numbers of arrests to take place without taking the patrol officers off the streets for large periods of time to process the accused drivers.  Another popular location for Wolfpacks to set up is on Gulf Boulevard up and down the beach communities of Pinellas County (St. Pete Beach, Treasure Island, Madeira Beach, Indian Rocks Beach, Clearwater, etc.).  The holiday season is the time where you will see increased use of these Wolfpacks all over Pinellas County.  
What to do if you see a DUI Checkpoint up ahead
The first thing you need to know about DUI checkpoints is that they do NOT stop every car.  They would not be able to do so logistically or legally.  They have a predetermined "plan" where they randomly stop every 5th or 6th car that comes into one of the lanes of travel.  So, your odds of being the car that gets stopped and detained is small.  Additionally, if you are in line waiting to find out if you are going to be stopped and detained, you should be getting your license, registration and proof of insurance out ahead of time.  One of the "clues of impairment" that officers use to build probable cause for a DUI arrest is how fast your reaction time is when asked to produce those documents.  If you are the lucky car, be polite and keep your answers short and sweet.  Don't engage in long discussions about where you were coming from or how much you have been drinking.  The odds are good that your conversation is being recorded or videotaped, so do not say things like "hey bro, do you think you could just let me have my friend come pick me up?"  That is the functional equivalent of saying "excuse me sir, I would like to confess to the crime of DUI." 
What not to do if you see a DUI Checkpoint up ahead
DUI checkpoints have "chase cars" patrolling around the area of the stop zone for the sole purpose of stopping cars that attempt to evade the checkpoint.  So, if you would like to increase your odds of being a chosen car, pull a u-turn or hang a left into a side street.  That will almost certainly guarantee your car will be chased down and pulled over.  At that point, you have created a presumption in the mind of the officer that you have something to hide.  Additionally, do not start chewing gum.  If you are already chewing gum, spit it out before you get to the checkpoint.  Officers will assume you are attempting to mask the odor of alcohol on your breath if you are chewing gum.  
Should I blow into the "machine" if asked?
If you are all the way through the process to the point where you are being asked to "submit to a lawful test of your breath to determine the alcohol content," you are already going to jail.  The question that remains is what evidence will you now arm the prosecutor with at your trial versus how will this decision affect your license with the DMV.  If you blow into the machine and your reading is above a .08, then you will receive a six-month administrative suspension from the DMV (separate from the DUI suspension).  If you refuse to blow into the machine, you will get a one-year suspension (for the first time in your life that you refuse) or an eighteen-month suspension if you have refused before.  If you blow, however, and your reading is above a .15, you will receive additional penalties versus a refusal to blow.  So…the answer is: If you are going to blow below a .15, then blow.  If you are going to blow above a .15, then refuse.  This answer begs the question; "how do I know if I am going to blow over a .15?"  The answer to that question is that you will not know till it is too late.  
Drive or Be Driven?
Most importantly, by far the best advice that this former state prosecutor and current DUI defense attorney can give you is:  TAKE A CAB or HIRE AN UBER this holiday season if you have been drinking. If you are reading this message after having been arrested for DUI, call me, Michael Boyle, Esq.  I can help.  1-855-532-8365 or visit www.leavenlaw.com/criminal-defense for more information.