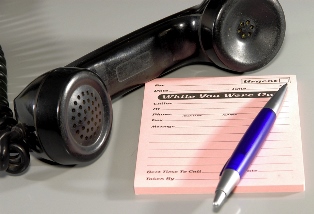 Have you ever received an "important business message" from a co-worker?  Or worse yet, your boss?!  Tough financial times can be stressful and potentially embarrassing enough as is -- creditors and debt collectors do not need to make it worse by calling you at work and leaving messages with people you work with to try and get you to call them back so they can collect from you. 
Luckily for Floridians, the Florida Consumer Collection Practices Act, or FCCPA, prohibits certain practices from being undertaken by creditors or debt collectors when they are attempting to collect a debt.  One such debt collection prohibition is that debt collection calls cannot be placed to your place of employment without either having your permission or a judgment against you.  Specifically, Florida Statutes, Section 559.72(4) provides that in collecting consumer debts, no person shall:
Communicate or threaten to communicate with a debtor's employer prior to obtaining final judgment against the debtor, unless the debtor give her or his permission in writing to contact her or his employer....  Fla. Stat. § 559.72(4). 
Frequently, despite the law above, aggressive debt collectors will still call Florida consumers at their places of employment and leave messages with a debtor's co-worker, requesting that the debtor return their call about an "important business matter" or a "personal matter."  What are they really trying to do?  Collect a debt.  Many times these messages will contain the following information:
Caller's name

Caller's number that they can be reached

Reference Number

Company name (sometimes)
If a debt collector calls you at your place of employment and leaves a message containing the above information with anyone other than you, and they do not either have a judgment against you on that debt or have your written permission to contact your employer, they have violated Florida's creditor harassment laws.  In such case you are entitled to up to $1,000.00 statutory damages, actual damages for stress anxiety, invasion of privacy and harassment, if any, and the creditor or debt collector will pay your reasonable attorneys' fees and costs.  
Creditors or debt collectors take the position that unless they divulge private information about you or your debt, they are allowed to continue to call you are your workplace, talk to others and leave them messages until your return their call.  They can't do this.  Recently, the attorneys at Leavengood, Dauval &amp Boyle, P.A. litigated this very issue and won a case of first impression under the FCCPA on debt collection calls to consumer's workplace in Federal District Court, Richard M. Dauval v. MRS PBO, LLC, Case No.: 8:11-cv-2703-T-MAP.  
Still other laws limit the debt collector's same conduct.  Under the FDCPA, when debt collectors leave messages (i.e., communications) that are intended to induce a debtor to return the call, and leave enough information on the message for the debtor to return the call, this is a communication under both the FCCPA and the Fair Debt Collection Practices Act.  In such communications, debt collectors also must state that they are in fact a debt collector, they are attempting to collect the debt and that any information obtained would be used for that purpose. Another section of the FDCPA, however, protects consumers and prohibits debt collectors from communicating with any third parties, also without judgment or consent given directly to the debt collector from the debtor.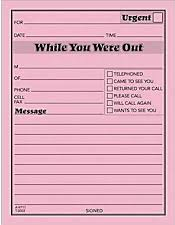 One might then ask, well how do you leave a message and comply with both such provisions?  The answer is, you don't.  Debt collectors are not entitled to leave a message in their attempts to collect a debt, and if they choose to do so, they must comply with all debt collection laws.  If debt collectors cannot comply with all the consumer debt collection laws and they leave a message, they have damaged you ... and you have rights under the FDCPA. 
"When we heard Ms. Spies had received multiple 'while you were out' message slips from a debt collector from her co-worker, we knew she was not being treated fairly," said Lead Trial Counsel Ian R. Leavengood when asked his opinion of the Dauval v. MRS ruling.  "She was afraid she would not be viewed the same by her co-workers....and she was afraid she might lose her job if the debt collection calls to her employer continued.  Floridians deserve to be treated with more dignity than that --we are glad to have helped change the debt collection landscape in Florida for the better!"
For a complete copy of the Dauval v. MRS case opinion, please click here.
*********************************** 
Leavengood, Dauval & Boyle, PA is a consumer trial litigation firm that represents consumers against banks, debt collectors, big business and insurance companies in distressed debt, debt collection, foreclosure and credit card defense, credit reporting and bankruptcy matters.  If you or someone you know has been harassed by debt collectors or creditors, or has problems with their credit report file, please feel free to contact us to discuss your potential case at a free initial consultation.  www.LeavenLaw.com